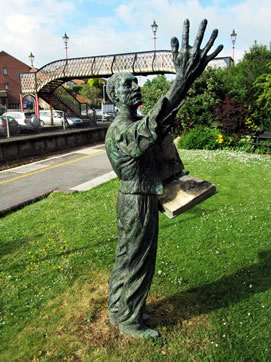 Key contacts to help you fight proposed Templecombe station ticket office closure
Around a quarter of the country's railway station ticket offices are listed for closure, and inevitably Templecombe is one of them.
This is a pity, because the Templecombe office is one of the friendliest, most helpful, knowledgeable and pleasant places on the entire rail network. Some excellent people will lose their livelihoods, while the rest of us will struggle with the car park machine and the ticket machine on the platform. Our travelling experienced will be diminished further, as the rail companies try to remove any remaining pleasure from rail travel, charging premium prices for a third world service. There are safety, security and disabled access implications as well.
What can be done? No firm decision has been made. There is nothing on the SW trains or South Somerset District Council Websites about this, so it may not be too late. If enough people write to SW Trains, their MPs, local councilors and the local council itself, it may be possible to apply some pressure and head these proposed changes off. None of our elected representatives seem to be running with this, so give them a jab.
Our MP – David Heath MP -17 Bath Street , Frome,  Somerset , BA11 1DN or via website. www.davidheath.co.uk
Councillors: Tim Inglefield tim.inglefield@southsomerset.gov.uk
William Wallace: william.wallace@southsomerset.gov.uk
(They could start by asking why Templecombe station does not even appear on the rail map on the SSDC website)
William Wallace is also a county councilor, but it would be unkind to write to him twice.
SW Trains operates the line.  There is a" live web chat" this Thursday 15 September between 2 and 4 pm where you can raise questions and put points to SW Trains management. Just go to the SW trains website www.southwesttrains.co.uk and follow the links.
SW Trains managing director is Andy Pitt. Write to him at SW Trains, Friars Bridge Court, 41-45 Blackfriars Road, London SE1 8NZ.
Some points to make
• How much do ticket machines cost? We hear £30,000 or more. So where is the cost saving?
• How does the proposed closure fit with the company's committed aim of  "improving the delivery of our service to our customers, being an even better partner to work with, and making an increasingly positive impact on society and the environment"? And all the other corporate social responsibility guff on their website?
• Automatic machines do not always sell the cheapest ticket
• There are frequent problems with automatic machines
• Train companies frequently change the rules regarding peak times and ticket availability
• Many people will find themselves paying unjustly levied penalty fares
• The lack of a personal touch will seriously diminish the travelling experience
• Current fares are very expensive and are set to rise further –the public would rather pay for staff on the ground than management bonuses.
• Wheelchair users and others with handicaps or difficulties will not be able to cross the line
• Car park users will be seriously inconvenienced if the ticket office closes
• A manned station is a safe station
You can guarantee that the ticket office will close if nobody makes a fuss!

PS: Templecombe  Station volunteers are also looking for recruits to help restore Templecombe station's famous garden to its former glory, including the now-weathered statue. Contact Alison.clements@tiscali.co.uk